Hair loss, both patterned and alopecia areata, is a prevalent condition. It affects more than 90 million people in the United States alone. There are many over-the-counter and prescription treatments on the market to help manage hair loss. However, not all of these treatments work for everyone. Only 5% of hair loss sufferers are able to find a solution that works for them.
But what if there was a treatment that worked for almost everyone? One that was simple to administer and had few side effects? Sounds too good to be true, doesn't it?
Well, it isn't. The answer is PRP therapy. The Healing Center, the best cosmetology clinic in Aurangabad, provides affordable and superior-quality PRP treatment for hair loss in Aurangabad.
Before discussing the solution for hair loss called PRP, first, let us discuss the hair loss problem and understand its causes.
So, what are the causes of Hair Loss?
Hair loss is caused by a decrease in blood vessels, which leads to thinning hair and eventually alopecia areata. Infections and other disorders can also cause hair loss.
One of the causes of hair loss is an autoimmune response. Some people may be susceptible to hair loss if they have a family history of this. Stress or hormonal imbalances can also cause the immune system to attack hair follicles, leading to hair thinning and hair loss.
What is PRP treatment for hair loss?
PRP therapy is a treatment that uses your platelet-rich plasma (PRP) to treat alopecia areata or patterned baldness. PRP therapy aims to increase blood flow around the scalp, allowing new skin cells and blood vessels to grow in healthy areas. The process involves: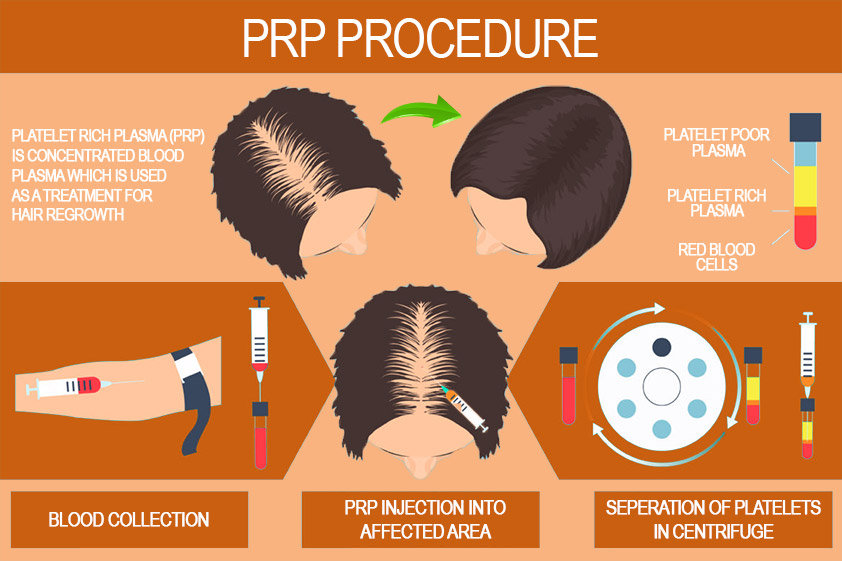 Drawing blood from a patient.
Separating the platelets from it.
Adding an anticoagulant like liquid nitrogen.
Spinning it with centrifuge machines to separate plasma rich in stem cells or growth factors.
Injecting it into the body where will help repair damaged tissue.
How does PRP treatment promote hair growth?
PRP treatment can promote hair growth by stimulating the cells in the scalp to produce collagen, which is essential for hair follicle health. In addition, PRP treatment is an effective method of treating alopecia areata. This condition, which causes patchy hair loss across the scalp, can be effectively treated with PRP therapy, says Dr. Snehal Jadhav, an experienced skin specialist.
Now that you know what PRP is and how it works, you may want to consider using it for your hair loss. There are six significant benefits associated with PRP treatment:
It prevents further damage
It stimulates hair growth in bald areas
It promotes collagen formation
It minimizes side effects
It's easy to administer
You can customize your treatment plan
Is PRP for hair loss effective?
This process has significantly increased hair regrowth in both patterned and alopecia areata patients. In one study, 92% of participants experienced improving or stabilizing their hair loss after just one treatment.
Additionally, PRP therapy is minimally invasive and has no side effects, making it appealing to many people who may otherwise avoid medical treatments, says Dr. Snehal Jadhav, a renowned skin doctor in Aurangabad.
How long does it last?
Many people are afraid of a long-term commitment to treatment. But, with PRP therapy, you don't have to commit to the process. With PRP therapy, you can stop doing it if you find it isn't working for you or your hair loss is getting worse.
PRP therapy lasts approximately 6-8 weeks on average. It doesn't last forever, but it will give your hair time to regrow and begin functioning correctly again, which can take up to 3-4 months for some people.
PRP Hair Treatment Success Rate
The success rate of PRP therapy is very high at 85-95% in most cases (though some say it can be as low as 70%), and there are few side effects. The treatment can be used on any scalp area, including those with alopecia areata, which makes it a good choice for both men and women.
Because of its success rate, PRP therapy has been used by celebrities such as Kim Kardashian West, who reportedly uses it to grow her hair back after letting go of all her extensions.
Bottom line
PRP Therapy is a treatment that uses the patient's blood to stimulate the regrowth of healthy hair. The procedure takes two hours, and the patient returns home on the same day. PRP therapy has a low risk of side effects, including redness, pain, and swelling at the injection site. It is also relatively inexpensive. PRP is an excellent and effective treatment for hair loss with reasonable success rates.
So, what are you thinking?
Visit The Healing Center, the best skin clinic in Aurangabad, to get PRP treatment and redeem your self-confidence!